Mother & Baby Fair 2013 Pertama Kali Hadir di Surabaya
Mother & Baby Fair 2013 Pertama Kali Hadir di Surabaya. Sebuah event yang diselenggarakan di Main Atrium Grand City Mall Surabaya ini menghadirkan berbagai macam acara seru. Menurut Mbak Putri, PIC dari #mbfairsby ini sendiri sangat bahagia bisa berada di Surabaya. Antusias para Moms dalam mengaktualisasikan diri bersama si Kecil menjadi pedoman dari seluruh kru @MotherBabyInd untuk membawa Mother & Baby Fair 2013 hadir di kota Surabaya. Soalnya di Jakarta, Mother & Baby Fair sudah menginjak angka keenam kalinya.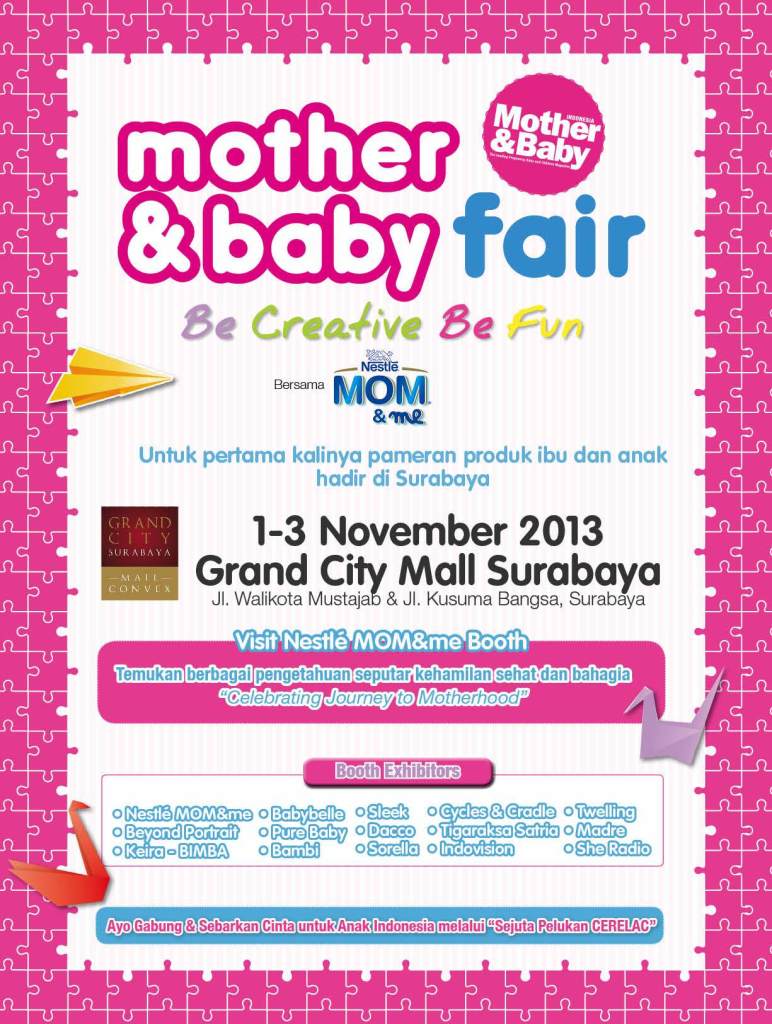 Mother & Baby Fair 2013 berlangsung dari tanggal 1-3 November 2013. Adapun rincian jadwal #mbfairsby ini adalah sebagai berikut:
Jum'at:
13.00-13.30 : Press Conference
13.45-14.45 : Talkshow "Menentukan Masa Depan Si Kecil Sejak Dini"
15.00-16.00 : Story Telling
16.10-17.10 : Talkshow: "Be A Healthy Mom To Be" with Nestle Mom&Me
18.10-19.10: Magic Show
Sabtu:
11.00-12.00 : Colouring Competition
12.15-13.15 : Cooking Demo "Healthy Drink for Mom To Be" with Nestle MOM&Me
13.30-14.00 : Pengumuman Pemenang Colouring Competition
14.15-15.15 : Fun Pregnancy Exercise with Nestle MOM&Me
15.30-16.30 : Pijat Ibu Hamil
16.45-17.45 : Talkshow "Blogging for Working Moms" with IIDN
19.15-20.15 : Kids Percussion
Minggu:
07.00-08.00 : Fun Family Dance & Wishing Balloons
10.45-11.45 : Cupcakes Decorating
12.30-13.30 : Talkshow "Loving Protection from Day1" with Nestle MOM&Me
13.30-15.25 : Costume Competition
15.40-16.40 : Baby Massage
17.00-17.30 : Pengumuman Pemenang Costume Competition
18.00-18.30 : Baby Dance
18.45-19.45 : Talkshow "Kids Photo Session with Beyond Portrait"
Nah, pasti seru dengan beragam acara yang bisa menjadi agenda weekend Moms dan si Kecil. Tak hanya bisa menikmati event-event tersebut kok. Moms akan dimanjakan dengan berbagai produk baby yang berusia 0-7 tahun. So, jangan sampai ketinggalan di acara seru Mother & Baby Fair 2013 kali ini yah.
Mother & Baby 2013 ini sendiri didukung oleh:
Nestle MOM&Me, Sleek, Beyond Portrait, Grand City Mall Surabaya, Jawa Pos, She Radio, Majalah Good Housekeeping, Majalah Cosmopolitan, Majalah Bazaar, Majalah Cosmopolitan Pregnancy dan Majalah Hello.
Untuk informasi lebih lanjut, bisa menghubungi:
Majalah Mother & Baby Indonesia (mbak Putri) 08189492990 (Call only, no SMS)

Website: www.motherandbaby.co.id dan www.motherandbabyfair.com

FB: Mother and Baby Indonesia

Twitter: @mbfair2013 dan @MotherBabyInd